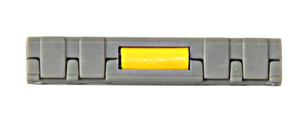 F1-MC125 Economic Mechanical Splice for 125μm Cladding (Single Mode or Multimode Fiber)
Part Number:
F1-MC125
This economic mechanical splice is designed around the proven and popular Elastomeric Lab Splice. This new design allows this economic mechanical splice to fit into any Fibrlok style splice tray.  
This economic mechanical splice can be used as a reusable temporary splice, or a permanent long-lasting splice on any 125um clad fiber either single mode or multimode. These economic mechanical splices fit into any mechanical splice style splice tray, accommodate 125μm clad fiber (singlemode or multimode) and have a typical insertion loss of 0.2dB.
Finally, these economical mechanical splices hold fiber with a self-gripping clamshell design. These unique splices also allow for the optional use of cyanoacrylate adhesive (e.g. Super Glue) to achieve a superior pull strength of 1.5 lbs.
Product Features:

Accepts any 125μm clad fiber (single mode or multimode)
Used as a reusable temporary splice, or a permanent long-lasting splice
Low insertion loss: < 0.2dB
Superior pull strength: 1.5 lbs (with cyanoacrylate adhesive)
Fits into any mechanical splice style splice tray